John W. Stone, Jr., LCSW (Licensed Clinical Social Worker)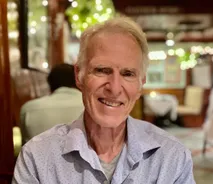 John W. Stone, Jr., Licensed Clinical Social Worker, is a psychotherapist, who also specializes in real time dynamic neurofeedback; career and life counseling.

John works in his private practice near downtown St. Petersburg, Florida, at 3637 4th Street N, Suite #390, St Petersburg, FL 33704
Click on his name below to directly link to his website.
Phone: 727-310-5520
Email: [email protected]
Website: www.JohnStoneTherapist.com
How can I help you? Please click here to go to my full website.
Neurofeedback – What is neurofeedback, and what types of issues can it help you address?
Neurofeedback (brain training) can help address anxiety, depression, trauma, grief, problems with sleeping, energy, motivation, the ability to focus, and health issues. I am certified to offer neurofeedback service with a specific system called NeurOptimal®. Neurofeedback, using NeurOptimal®, is a 100% non-invasive, drug-free, brain training system that helps the central nervous system (CNS) make the best use of your brain's natural resources. This system has proven effective with our own clients, as well as with thousands of clients who received neurofeedback training via NeurOptimal® with other certified trainers.
Click here to read more about the Neurofeedback service offered at our practice.
Contact me to discuss what you would like to improve, and how you may benefit from Neurofeedback.
– Has anger been affecting your relationships at work or at home? Do you get angry easily; are you concerned about what that might lead to? Has an intense anger response already led to problems, perhaps resulting from involvement of law enforcement?
I conduct an Anger Management program in a group setting as well as with individuals. Effective Anger Management will help you learn to prevent anger from escalating and leading to negative consequences. The Anger Management program and approach we use is proven effective (evidence-based), utilizes cognitive behavioral theory (CBT), includes educational components, and some role playing. In this program, you will learn to identify your "hot buttons/triggers", what might be underlying these triggers, detect cues of anger and how to improve your response to triggers and cues. Learning to break down your reactions into types of responses/behaviors will assist you in creating a personal anger control plan, which will include tools that help you stay calm "in the moment" as well as techniques for preventative measures (aimed at eliminating or reducing your reaction to triggers) -- both of which can help prevent escalation of anger and associated negative consequences.
In this anger management program, you will also learn how to use assertiveness, rather than aggression, and the benefits of, and how to use, a 5 step conflict resolution model.
Contact me for a brief free consultation to learn more about our Anger Management program, discuss what you are dealing with, and to determine how well we fit with what you are looking for.
Transitions in Life – Change is often accompanied by stress, and stress can lead to anxiety, depression, sleep disturbance, fatigue and health issues. Even though some changes are exciting and positive, they still may cause stress. For example, the birth of a child often is seen as a positive change and one that is considered a desirable milestone and a major life transition, but it still may lead to stress -- due to additional demands on your time and attention, possibly resulting in a less intimate relationship with your partner; loss time from work due to visits to the pediatrician or family doctor, increased demand on finances, housing, plus managing expectations or family and friends.
How you cope with stress is important to your own mental and physical health and for those around you. Preparation for life transitions/change plus healthy coping methods reduces stress and related negative impact.
Are you feeling stressed by the responsibilities of living on your own, separated from family, old friends and "the familiar"? Maybe you are in college, or relocated with your job or your significant other, or moved looking for a change, a different lifestyle or higher quality of life?
Are you and your significant other in a relationship that feels "stuck", and maybe you or your partner would like the relationship to move to the next level,…..or maybe not?
Are you transitioning from single life to a committed relationship or marriage; or from a committed relationship/marriage to single life?
Has you last child moved out, and you or your significant other are finding it difficult to relate to each other as an adult couple? This is a normal part of life transitions, but it can result in a positive experience, and lead to increased satisfaction in your relationship.
There are tools, such as relaxation techniques, and self-programming the subconscious mind that will allow you to achieve calmness, clarity/focus, and success. Neurofeedback has also proven effective in improving stress symptoms/anxiety, depression, sleep disturbance, fatigue and health issues.
Whether you are an individual or a couple - we can also work collaboratively to determine your strengths, areas for improvement, and establish objectives that will help you get to where you want to be (i.e., achieve your goals). Without a clear plan, the mind will continue to spin, keeping you in a "rut" trying to "figure it out", rather than helping you move forward. With the right tools to maintain a calm mind, along with a clear plan and focus, you can accomplish your goals and succeed.
Please contact me to discuss how this is possible .

Healthy Relationships/Couples & Marriage Counseling – Are you in a relationship or marriage that seems to be spinning, moving nowhere, or does it feel like it is "circling the drain" toward a break up/divorce. Do the same old issues continue to cause conflict and unresolved problems in your relationship? Are you excessively worried, stressed, anxious, and looking for some help?
I have been married for more than 35 years, and I understand first-hand what a healthy, lasting and loving relationship is built upon. For example, in addition to effective communication, which is essential for sharing information, and providing support to each other, couples must learn to solve problems together, avoid blaming, share tasks, negotiate, and increase positive experiences together.
Intimacy is a hallmark of a couple relationship, and can be affected by pressures of work, children, finances, health issues, and how closeness was expressed within families of each of the partners when they were growing up.
Power -- who has it and who does not have it, also affects the quality of a relationship. Power struggles and power imbalances may emerge over who controls finances, who is in charge of decisions regarding child rearing, education or religious/spiritual upbringing. Agreeing to decisions early in the relationship is important for establishing the "game plan", but being able to effectively renegotiate those decisions later, is key to preventing, halting, and changing an unwanted and unhealthy power balance.
How you cope with problems individually and together is also an important skill applied toward maintaining satisfaction and supporting a healthy relationship. Some problems in relationships are solvable, some are not. If a problem is solvable, the challenge may be initially with agreeing to the definition of the problem, then finding the right approach that each person accepts and works toward the solution. Once an approach and solution is mutually agreed upon, working together is key to accomplishing that goal.
Contact me to discuss your situation, what you are dealing with, and what you want from your relationship. I look forward to speaking with you and your partner, separately, and together as a couple.
Successful Aging – Whether you are approaching your 50's, 60's, 70's, or beyond, aging brings inevitable changes and challenges, but also opportunities for continued growth and satisfaction. Are you having difficulty falling asleep or staying asleep, an inability to focus, experiencing memory issues; are feeling isolated, lonely, sad, or just bored/not sure what to do with your time?
Did you know that contrary to popular belief, a deterioration in cognitive and intellectual functioning is not inevitable in older age. Intellectual stimulation and keeping the brain engaged is key to maintaining cognitive abilities. Self-confidence and good mental functioning go hand in hand, and help you stay in control of your life, even when you are facing physical changes or other changes in your social network & family systems.
In addition to formal training and education regarding successful aging, I am someone with a lot of life experiences, and I understand first-hand some of the challenges and issues related to aging.
What we offer – assessment and counseling to help you identify your personal strengths and how to increase satisfaction with your life as you get older; neurofeedback to assist in retraining your brain to address anxiety, depression, grief, problems with sleeping, energy, motivation, and the ability to focus.
Contact me to discuss your concerns and how you may benefit from these services.
Job/Career Issues – Are you experiencing stress related to your job, or perhaps you are facing important career decisions? Maybe you just feel "stuck"?
I worked for 20+ years in the government and corporate sectors in various roles, initially as an individual contributor in the technology field, followed by middle- and executive-level management positions in marketing and sales. My corporate career ended suddenly as a result of restructuring and downsizing during the 2001 technology market "implosion". In addition to a weak job market, I faced stiff competition due to my (older) age, salary expectations, and over-qualification/experience level relative to the few positions that were available.

Allowing myself to give up my "corporate business identity" was the first step I took that freed me to be open to other opportunities. "Redefining myself" within the context of current markets was powerfully motivating and worked for me. It was not easy, and it did not happen overnight, but as a result, I now have 15 years of experience as a successful small business owner.
H o w do you move forward? To begin, take inventory of your strengths and skills, personal style, values, level of integrity, and identify areas that need development. Invest time and effort into really understanding yourself, be truthful with yourself, and make improvements where needed.
Job satisfaction and life satisfaction can go hand in hand. They are not mutually exclusive. In fact, for a more balanced life, they should complement each other. Setting goals, defining objectives and measuring your progress will allow you to determine whether your plan is working, whether adjustments are needed, and if you are on target.
I offered my personal experience only as an example of "what I've been through", but also to show you that feeling "stuck", stressed, anxious, or negative about where you are, what is happening, what has not happened, or what might happen,….is a normal part of life and careers.
What really matters is how you deal with it. I have tools that you can use to help you stay calm, focused, and energized. Through additional consultation and counseling, you can develop a clear and achievable plan. Coupled with your acceptance to make changes where needed and your commitment to "work the plan", you will be well positioned to move forward and achieve your goals
Contact me to discuss how our consultation & counseling, combined with neurofeedback and relaxation techniques can assist you with this important aspect of your life.
-----------------------------------------------------------------------------------------------------
Insurance and Financial Information

I look forward to speaking with you about what is going on in your life, what you are dealing with and want to improve. We can work collaboratively to establish clear goals and objectives, and provide you with tools that will assist you in achieving them.

John W. Stone, Jr., LCSW
Licensed Clinical Social Worker
Phone: 727-310-5520
Email: [email protected]
Website: www.JohnStoneTherapist.com